Ohana House is our largest rental—sleeps six comfortably
There's a reason we call this vacation rental a house and not a cottage. With three bedrooms and three full bathrooms, it's our best option for families or couples who want the added luxury of a full-size home.
1,200 square feet of luxury accommodations
Ohana House has an interesting history—it was built in 1942 using lumber from dismantled supply ships during the second world war. Since then, this Kauai vacation rental home has been fully renovated, but still retains its original materials. With its new, upscale furnishings, you would never imagine that our luxurious cottage rentals had such humble origins.
This rental home on the east side of Kauai boasts two bedrooms with queen-size beds, a third bedroom with two twin beds, a living room, and a kitchen. The kitchen comes fully equipped and features wood counter-tops, a dining table that seats eight, and a bar area that seats two. The rooms are decorated in a plush, contemporary style with tropical accents. Though the home receives good cross-breezes, each room has air conditioning and a ceiling fan.
Just outside the front door, you'll find a small porch with breathtaking views of the garden.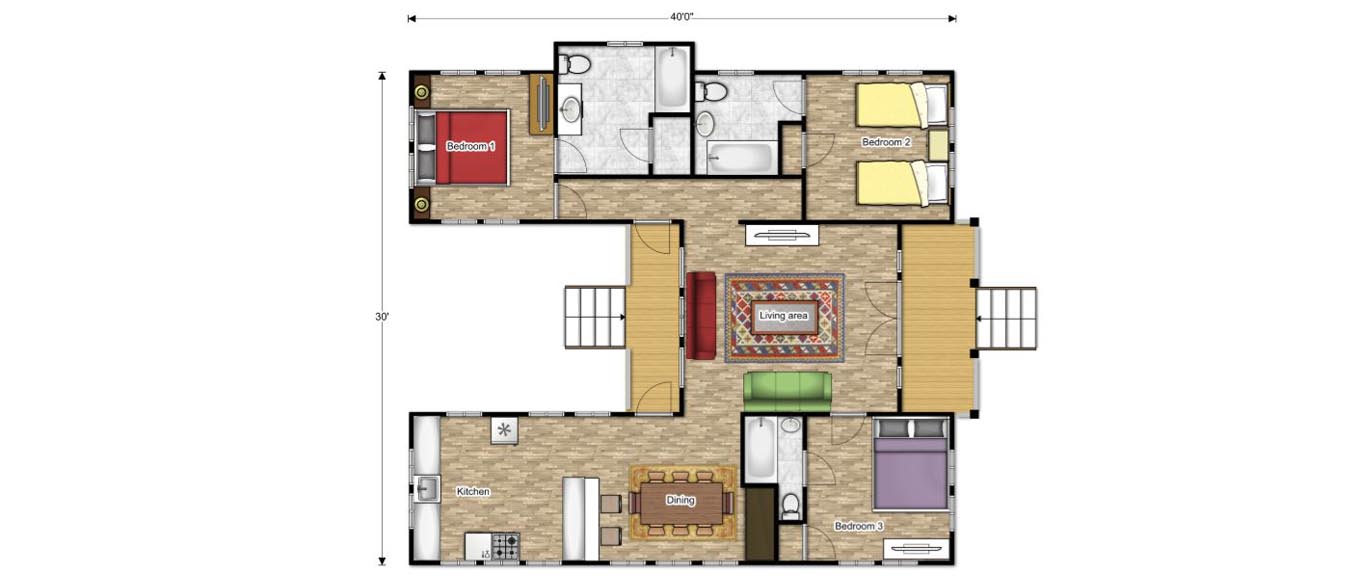 Your dream holiday awaits you in our Kauai Vacation Rental Cottages
The rate for Ohana House varies depending on the number of people in your party and the time of the year. The base rates are as follows, plus a tax of 14.962% and a cleaning fee of $250.
From 04/01/2021 to 12/17/2021 the rate for Ohana House is,
1-2 guests, $400, 3-4 guests, $425 to $450, 5-6 guests, $475 to $500.
From 12/17/2021 to 01/09/2022 the rate for Ohana House is,
1-2 guests, $500, 3-4 guests, $525 to $550, 5-6 guests, $575 to $600.
From 01/10/2022 to 03/31/2021 the rate for Ohana House is,
1-2 guests, $450, 3-4 guests, $475 to $500, 5-6 guests, $525 to $550.
From 04/01/2022 to 12/15/2022 the rate for Ohana House is,
1-2 guests, $400, 3-4 guests, $425 to $450, 5-6 guests, $475 to $500.
Each reservation has access to the entire house exclusively.
Full payment comes due at time of booking. Payment may be made by e-check or check. Credit Card payments will incur a 3% charge.
This luxurious and over-sized vacation rental is sure to book fast. Reserve your dates today!
Features and Amenities of this Vacation Home
Kayaks
Bicycles
Washer/Dryer
BBQ Gas Grill
Basic toiletries
Parking on site
Wireless Internet
Linens and towels
Streaming TV
A/C and ceiling fans
Complimentary Drinks
Hairdryer, iron, and ironing board
Beach towels, mats, chairs, coolers
Unlimited Calls to USA and Canada
Our Vacation Rental is sure to spark fond memories of Hawaii.